Whatever your problem is, you are not alone.
We are here to help, just call our advice-line, pop-in or email us and we will point you in the right direction.
It can be about your health, your money, your house, your family, your rights, immigration or anything in between.
At Citizens Advice Sandwell & Walsall we offer free, confidential, independent and impartial advice to anyone who needs our support.
We believe individuals should be able to get help in the way that works for them and meets their needs. The Citizens Advice service offers information and advice through face-to-face, phone and online services.
With our drop in service we aim to help you with any issues you may have, big or small.
If you drop in to one of our offices we will make every effort to deal with your issue at the time, however some queries will require more in depth advice, and we can book you in with one of our specialist advisers. We will initially ask some questions to find out about your issue, so that we can work out the best way that we can help you.
All of our advisers are trained and able to deal with your queries. We are here to give people the knowledge and confidence to move forward, whatever their problem may be.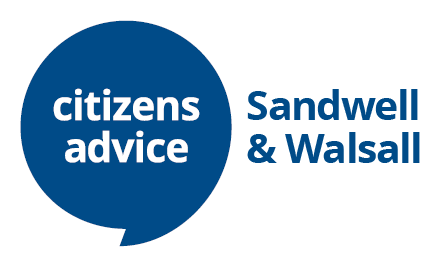 At Citizens Advice Sandwell and Walsall we are working in partnership with young people who are preparing to make the transition from public care, their carers and relevant agencies, to deliver an effective, integrated holistic service. Our Transitional Support Workers (TSW's), assist in understanding the young person's needs and participate in their needs assessment, alongside lead professionals to ensure young people's needs are being met.
They provide information, holistic advice, planning and preparation support to meet young peoples development needs, especially in health, housing and post-16 careers. They ensure young people are aware of, and receive their financial entitlements by providing advice on benefits and assisting with form completion when necessary.
We promote young people's physical, emotional, mental health and wellbeing, and social welfare; promoting their capacity to take responsibility for themselves and to act responsible towards others; promoting welfare: ensuring that needs relating to religious persuasion, racial origin, gender and cultural and linguistic background are actively identified and met.
The TSW's work in partnership with young people, their social worker, carers and other relevant agencies and act as an advocate when needed.
Should you require any further information regarding the above please contact rachael.w@citizensadvicesandwell-walsall.org

Would you like to improve your numeracy skills to maximise your income?
Multiply is a new government-funded program to help adults access free numeracy and financial literacy courses to build confidence and skills with numbers for everyday life and in the workplace.
In Sandwell, it funds the Numbers for Life program, for adults who are:
In full or part-time work
Volunteering
Aged 19 or over
Without a maths GCSE (grade C or equivalent)
Numbers for Life can help you with:
Managing your money effectively Savvy shopping
Understanding your bills Budgeting, saving, and banking
Energy saving tips Knowing your benefit entitlement
We are providing free courses and workshops in community venues, in a welcoming and friendly environment to improve your skills with numbers. Numbers for Life is delivered in partnership between Sandwell Consortium, Citizens Advice Sandwell & Walsall, and Sandwell Council.
You can refer yourself or someone else directly to the programme.
For further information or to register your interest, please email multiply@citizensadvicesandwell-walsall.org or scan the QR code and one of our team will be in touch.